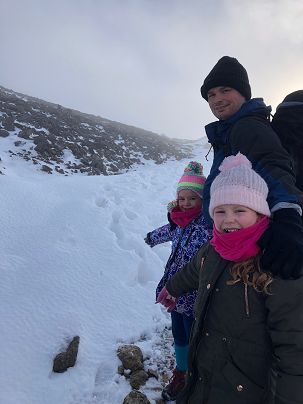 Risk-Taking & Recognition for the Soul: A Social Leader's Snowdon Adventure
Hubby and I met working for the Duke of Edinburgh's Award and so both share a love of the outdoors.
Hubby and I met working for the Duke of Edinburgh's Award and so both share a love of the outdoors. Our first few years together were spent exploring the hills and taking young people out on expeditions. As we've had our family some of that's changed and we've not found the time to walk as much.
For 2019, we have a family resolution to enjoy the outdoors more and we've started well – bike rides in the country, walks up Mam Tor with great friends and then the great idea of celebrating hubby's birthday with a walk up Snowdon.
And we did it! We climbed Snowdon last weekend with our 2 children (aged 6 and 7)!
10 miles, 6 hours, lots of snow and fantastic fun.
I've spent some time this week reflecting on what our Snowdon adventure has taught me:
1. Planning is good for me
Anyone who knows me, knows that I love a good plan./ I'm scarily organised at times and relish the process of writing out lists (ok – I've admitted it, I am a bit of a geek).
And, planning our Snowdon walk was no different. There are 6 different paths up Snowdon, all with different start places and levels of difficulty. I enjoyed the research bit, roped in hubby to get the OS map out and plan the route and felt more excited for the walk the more I planned.
I appreciate that planning isn't for everyone (and I worry at times it means I lack spontaneity) but for me planning is part of the journey.
As a leader of a growing, fast-paced, diverse charity, planning is a part of my job that I love – weighing up the pros and cons of taking one route over another, thinking about whether the starting and ending point being different is ok and planning how to take people with me on the journey.
I like needing to adapt and change plans as reality strikes; but I know that having a plan in place gives me a framework to rest on, meaning that I can enjoy the journey all the much more.
2. (Safe) risk taking is good for my soul
Hubby and I had considered long and hard whether climbing Snowdon in January, with a forecasted summit temperature of -8C was a good idea. We'd agreed that if it felt too risky we'd turn back.
So, on the Saturday morning, we woke up early, got our thermals on, had a good breakfast and set off walking by 8.30am.
2 hours in (to an approximately 3 – 4 hour climb) and we were doing well. The weather was beautiful, it was cold but clear and we were all happy. We could see the snow-capped mountain peaks but it didn't look too challenging.
[Image]
Then almost all of a sudden, we started to walk in snow – a little bit at first and not too much to obscure the path but then deeper and deeper…
30 mins later and it was so deep we couldn't see the path at all. We'd been following someone else's footprints in the snow and suddenly they stopped.
[Image]
We knew we had probably about 30 mins to go to reach the summit but it suddenly felt a bit risky.
[Image]
So, a quick conflab later, hubby went off in search of another route whilst the girls and I waited. He found one, we set off again and 30 mins later we reached the summit – we'd done it!
[Image]
Taking the risk to climb on a cold, snowy day had been worth it.
As a social leader, I balance risk-taking all the time and am constantly figuring out what our organisational risk appetite is.
Can we stretch ourselves and go for that new service?
Will it push our resources too far?
Can we afford to invest in a new much-needed post now?
Do we wait for another time?
Taking risks is a necessary part of running a charity. Snowdon taught me that taking (safe) risks and pushing yourself that little bit more, can lead to the most fantastic outcomes.
3. External recognition of your achievements can urge you on
On our 6 hour climb up and down, we didn't see any other children. Lots of walkers fully kitted out with crampons, full waterproofs and rucksacks (and some not so). But no children.
On the way down, I lost count of the number of people who stopped to congratulate the girls on making it to the summit.
And I saw the girls grow in confidence and pride as each one said something to them.
They were proud of what they'd achieved and so touched that it had been recognised by someone other than mummy and daddy who they know love them unconditionally.
That pride has carried in to this week. They've excitedly told grandparents, teachers and school mates about their achievements.
It's made me question if I pass on that recognition enough to the people around me?
To colleagues I work with every day, doing the most amazing work to create safe, healthy and happy relationships with the people they support.
To our trustees who give us so much of their time and expertise to held guide and challenge us.
To our partners who we collaborate with openly, honestly through trusting relationships.
To our funders, who without their support we couldn't deliver the services we do.
So, I have an additional resolution now – to openly recognise the achievements of those around me and to do it regardless of how many more people have already commented on those achievements already.
And for us, well we're now planning the next walk (and I know my eldest is now dreaming of an Everest trip soon)!